Water Tech Disrupter 2018
AQUAGLOBE, SKANDERBORG, DENMARK
March 2018 I received the award "Water Tech Disrupter 2018" at
Grand opening AquaGlobe, Skanderborg, Denmark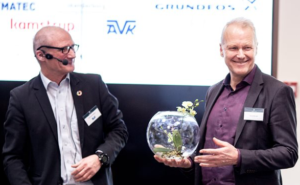 Jeg modtog prisen ifm. arbejdet med målinger af stoffer i vandmiljøet. Nærmere betegnet, hvordan man med trådløs teknologi kan være i stand til remote at modtage online måleresultater fra fx nitrat, pesticider og andre stoffer i vandmiljøet. Arbejdet foregik i regi af AquaGlobe  sammen med Kamstrup og Skanderborg forsyning.
I received the award in connection with the work on measurements of substances in the aquatic environment. More specifically, how can wireless technology be able to receive online measurement results from, for example, nitrates, pesticides, and other substances.
The work was conducted by AquaGlobe together with Kamstrup and Skanderborg utility.